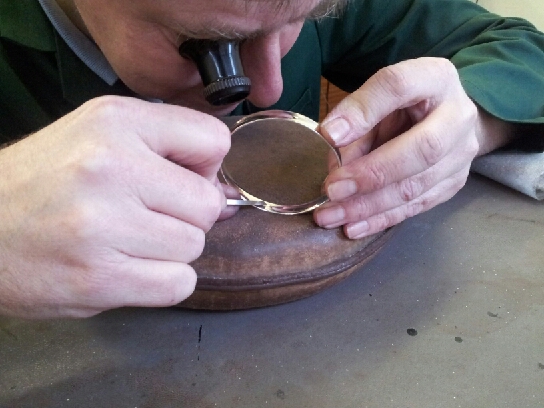 Specialist Engravers
- Expert hand engraving
- Machine engraving
- Computer engraving – Logos, badges, designs etc.
- Specialist watch engraving
- Bespoke orders taken
Experience
We have been established since the 1950's.
Our expertise ranges from bespoke hand engraving, machine engraving as well as encompassing
recent developments in computer aided engraving.
Our work ranges from sporting trophies and high value metal-ware through to personal jewellery
pieces and discreet private commissions for Royal family members and celebrities.
At our heart, we are a UK and local business. We work for some
of the most recognised jewellery businesses from around the country, as well as commissions
for individuals who happen to drop by.
"Absolutely perfect work"
"Absolutely perfect work exactly as requested. Really friendly and fast service, couldn't be happier. Point of note that the engravers shares an entrance with a couple of other businesses, just go inside and there's a sign on the wall pointing you in the right direction."
Google reviews
"Truly professional engraving
by a master craftsman"
I was delighted by the quality of the workmanship when I recently had a gift engraved. I asked for thirty capital letters on a single line around the back rim of a small metal travel clock. The letters were centred exactly, and placed perfectly .. even down to the 'spacer' asterisks. I think the rotary engraving technique was employed (rather than laser) as the engraving left a distinct impression on the surface of the metal that you could feel ... and the letters sparkle in the light ... (as opposed to the flat, duller look of laser engraving). Why buy laser engraved metal gifts from the website .. when for a reasonable sum (quoted beforehand) you can choose your own gift and have truly professional engraving by a master craftsman at Holt & Marsh.
Google reviews
"Best Engravers in Town"

"I found Holt & Marsh on the internet as being quite close to Christmas and being quite disorganised I needed engraving on a silver bangle just to add that special touch to the gift for my partner. They are tucked away on a quiet street in the Northern Quarter of Manchester with plenty of Pay & Display parking in the adjoining streets. I was surprised to learn that they have been in business for over 5o years and it is a family run business (which always instills confidence for me). I wanted 3 words (15 letters) engraving on the inside of a bangle and I was able to choose font. Furthermore the difficulty of a stamp embossed mark on the inside which had worried me was worked around with ease and the final result was really brilliant. I wish I could upload a photo. It took under 30 minutes and was less than £20. I am a professional woman working in the City Centre and I wanted to post this review to recommend this service to anyone who was thinking about doing something similar.
You will not be disappointed!"
Yell.com Smartshopper
Our work.
Here is just a small selection of the work we have undertaken.
We have been very privileged to engrave Manchester United's
Player of the Year Awards since 2013 at the event itself.
Find us:
40 Thomas Street, Manchester, m4 1er | Telephone: 0161 834 1772 | Email: holtandmarsh62@btconnect.com
Opening hours: Mon – Fri: 7.30am - 3.30pm / Sat – Sun: Closed